Lambretta & vespa Tubeless wheel rims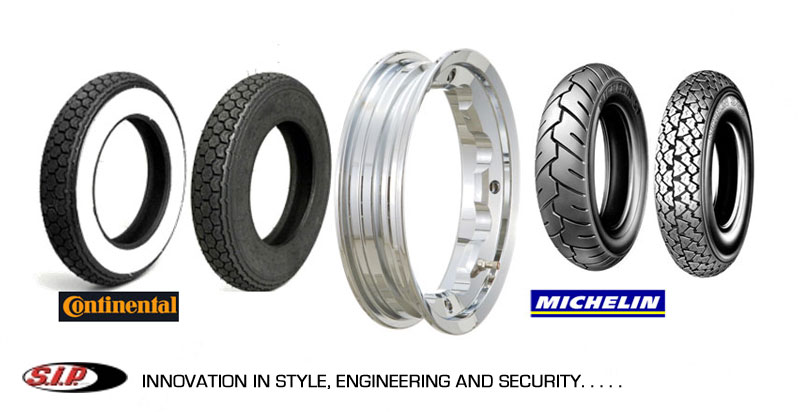 Sip tubeless rim, successful and reliable.

This rim allows you to use tyres without a tube. In case of a puncture a sudden air leak will be prevented, the air pressure will decrease slowly. Blown tyres will be a thing of the past. So will be valve tear offs or punctures due to pinched tubes.
The sip rim combines the advantages of a classic cast rim with a high production accuracy and quality.

The design is a tubeless double hump rim. This hump prevents the tyre from slipping into the rim well in case of a puncture. The rim rotation is very precise. The rim is aluminium cast and cnc machined. The surface finish is perfect.
The rim is currently available in polished aluminium; the rim comes in 2.10 inch which makes for easier tyre fitting. Please contact us or a qualified workshop for accurate and damage-free tyre fitting (tyre tool and appropriate fitting basis highly recommended).

Make sure to avoid any damage to the surface!

The sip rim will cause a minimal and therefore insignificant misalignment towards the left side. The rim allows fitting tires from 3.00/ 3.50 up to 100/90-10. A lot of tube-type (tt) tyres can also be used as tube-less (tl) tyres.

Attention: make sure to always check clearance of engine and accessory parts! In case your valve should touch the brake drum laterally, please modify the brake drum or use a valve with reduced height.
Conclusion: innovative rim, high-quality workmanship, additional security. This product has successfully passed our long distance and fatigue test!

Type 1: 4 x nuts, classic shape, to be used with the provided u-washers and lock rings.
Closed version to be used with screw locker, e.g. loctite. No homologation * for race use only.
Check wheel rim nuts regulary.